Spinal Cord Stimulators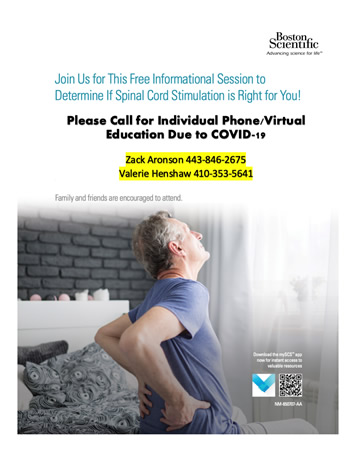 Spinal cord stimulation is a great way to treat chronic pain in the back, legs, neck and arms. In the US, stimulation is used most often to treat pain that continues after spinal surgery. Stimulation is also used for other chronic pain syndromes like claudication, stenosis, angina (chest pain) and neuropathy. We always start treatment with less invasive therapies or medications. Unfortunately, some patients will continue to have pain and we may consider stimulation. Stimulation is state of the art care, but is not new, it's been used since the 80's. In the last 5 years, new devices and techniques have been developed that improve outcomes. Now we see that 90% of patients who trial a stimulator have excellent, long lasting pain relief.
Stimulation is done as a multi-part procedure. First, we will evaluate you for stimulation in the office and discuss the process, its potential risks and benefits. If we all agree that stimulation is the next step, then we will order any additional testing and consultation. Initially, stimulation is done as a temporary trial that we liken to test driving a car. The trial or "test drive" allows you to be certain that it will provide pain relief before doing anything permanent. In a trial, one or two small electrodes are placed in the epidural space using X-ray guidance and connected to an external pulse generator. We do the trial at the surgery center. You will get to try out the device for 3-7 days, during which time we ask you to keep track of your pain and determine how much benefit you receive from the device. At the end of the trial we will remove the leads. If you experience good relief then you will be scheduled for a permanent device implant. The implant is also done at the surgery center and with anesthesia. All the permanent components are placed under the skin, similar to a pacemaker.