Painful Diabetic Neuropathy - HFX (Spinal Cord Stimulation for Diabetic pain)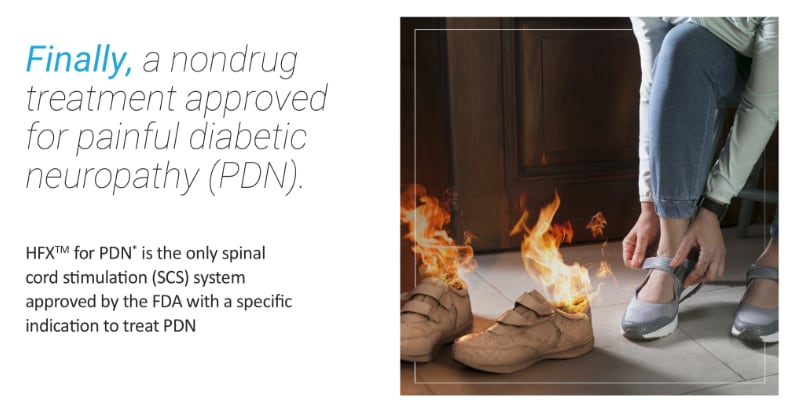 Maryland Pain specialists is excited to offer a new spinal cord stimulation technology specifically for the treatment of painful diabetic neuropathy (PDN). HFX is is a newly approved nondrug treatment for PDN, and is the only SCS system with a specific indication to treat the condition. Maryland Pain has done SCS implantations for years, but this device gives us the ability to help a whole new group of people live more functional lives.
More than 34 million people in the U.S. have diabetes[1], and it's estimated that 20-25% of people with diabetes will develop PDN.[2] The condition is associated with a wide range of symptoms including pain in the limbs described as burning, freezing, stabbing, shooting, hypersensitivity or deep aching.[3] Traditional treatment options for PDN include over-the-counter medications, prescription medications, physical therapy and injections, but for many people, these options are inadequate for long-term relief.
HFX for PDN is the only spinal cord stimulation system approved by the Food and Drug Administration (FDA) with a specific indication for PDN.
HFX is a comprehensive solution that includes a Senza spinal cord stimulation system and support services for the treatment of chronic pain.
HFX for PDN means that a patient has been implanted with a Senza System and programmed to include a frequency of 10 kHz.
The Senza device is implanted during a quick and minimally invasive procedure, and then begins delivering mild pulses at a high frequency directly to the spinal cord to stop pain signals from reaching the brain. In a recent study, 92% of patients reported high satisfaction with the therapy.[4]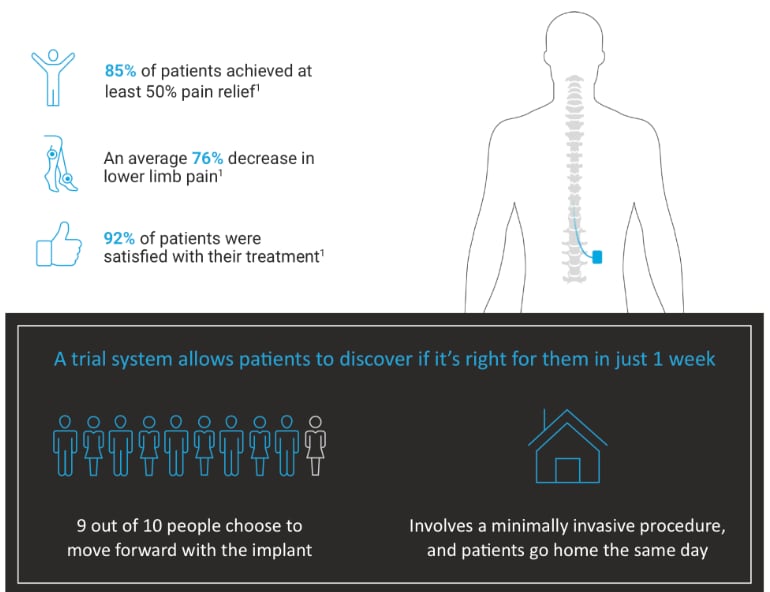 [1] CDC 2020 National Diabetes Statistics
[2] Schmader KE et al. Clin J Pain. 2002;18(6):350-354
[3] Peltier A, et al. BMJ. 2014;348g1799.
[4] Petersen EA, et al. JAMA Neurol. Published online April 05, 2021. doi:10.1001/jamaneurol.2021.053